Act! Pro 22.1
Act! Pro is no longer sold
Our former clients can switch to Act! CRM or to Act! Growth Suite.

Contact us to find out the price of the service we offer for the migration depending on the Act! Pro version you have and the total recovery of your data.
Select your product Act! Pro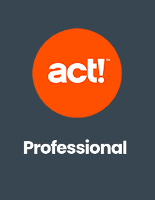 Act! Pro 22.1 user license:
- Windows® software.
- software only, no upgrade and no support.